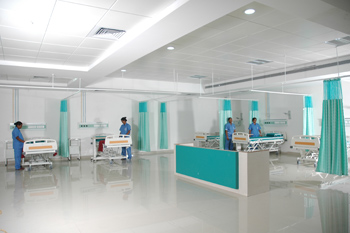 The Department of Physiology being one of the pioneer Departments of The Oxford Medical College ,Hospital and Research centre, has the responsibility of imparting medical education to the first year medical students.
Physiology seeks to understand biological function spanning the range from molecular mechanisms to medical problems. No other field has such an important task or is as cross- disciplinary in nature.
Areas of systems level investigation include the cardiovascular, gastrointestinal, endocrine, immune and central nervous systems. Physiology also explores cellular processes such as synaptic transmission, the immune response and muscle excitation – contraction coupling as well as molecular mechanisms of ion channels and transporters.
The department is well equipped with six practical halls, Haematology & Amphibian lab measuring 225 sqm, clinical and mammalian are 115 sqm and the research lab and yoga lab measuring 90 sqm.
The practical halls are provided with all the necessary hi-tech equipments to cater the needs of UG curriculum.Hi-tech Equipments like polygraph form adlabs facilitates the research activity like HRV analysis for autonomic function, Nerve conduction studies and evoked potentials and computerised spirometer for PFT.
Academic Activities
The academic programme at the Department of physiology is tuned to encourage maximum participation by medical students. Besides conventional teaching, Emphasis is laid on active learning and problem based learning approach.
The Department will impart education and training to 150 students of 1st professional M.B.B.S, in the form of lectures, Practical classes, seminars, small group teaching (SGT), symposium and tutorials.
Emphasis will be laid on small interactive group teaching as it is more beneficial to the students because individual care is possible in such classes.
Faculty in the Department are actively involved in the student mentorship programme.
The Department of physiology has a simulated lab too which computer assisted learning, which replaces animal experiments for UG students.
Integration -
Horizontal integration is planned for UG Students with the pre-clinical departments.
For vertical Integration -Students will Visit the Department of Transfusion Medicine for learning safe blood transfusion procedures and live demonstration, Department of pulmonary Medicine for getting introduced to the latest techniques and sophisticated equipments available for assessment of pulmonary function and the Department of Medicine for getting acquainted with echocardiography and stress ECG., EMG, EEG and Nerve Stimulators etc.6 This is in conformity with the MCI Recommendations of 2005.
Early clinical exposure and competency based medical education (CBME) will be implemented by 2019 as per MCI.