What is Geriatric?
The Oxford Medical College Hospital and Research Centre Geriatric Care in Bangalore offers a form of care,  that is based on improving healthcare for elderly people. It supports healthy improvement in older adults by treating, preventing disease and disability that often comes with ageing.
It's common to get confused with what geriatric care proposes to help with older adults. Geriatric care is a specialised care type that is focused only on older
With increasing age, the number of people living well past 80 grows in turn growing the need for those with an aging expertise. Our  nurses specialise in geriatrics to provide care in  the older adults with specialized care and geriatric nursing and a high quality of life.

Main concern for these elderly is the need for more health promotional activities. These include geriatric medicine, nutrition, physical activity, social contact, psychological support, and activities for the brain.


For elderly with mild functional limitations or mild cognitive impairment, assistance for living is needed. They usually fall in the age group of 70–80 years. Geriatric care in many forms like support with Meals on Wheels, special transport, need for assistance for hospital visits or support for physical rehabilitation is required for these people.
Since their healthcare needs are enormous they need special geriatric clinics where they are comprehensively assessed and rehabilitated. Other helpful aids to their betterment are physiotherapy, psychological support, and constant medical help. In case of decline in functional or cognitive status, they may need hospitalization and full time geriatric nursing.
Elderly with severe functional limitations or cognitive limitations are absolute candidates for receiving  geriatric care or hospice care. Home members need to be trained in care giving and also it is almost essential to hire training home care providers for geriatric nursing. A need for health care programs for these elderly with doctors, geriatric medicine specialists, nurses, physiotherapists, laboratory services, and pharmacy services.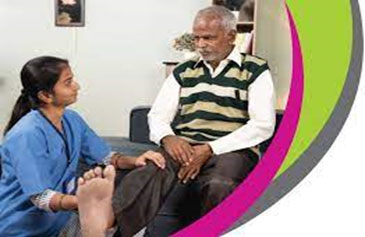 The oxford medical college, hospital and research centre provides the elderly care with nurses specialized in nursing and medicine in geriatrics, helps elderly by assuring them that they are living independently with assistance. There is a need for palliative care setup along with geriatric nursing for such elderly care which the nurses of The oxford medical college, hospital and research centre are well trained for. The goal of care is to keep them comfortable in their own surroundings or keep them comfortable in hospices allowing them to receive the best possible care. Geriatric care management is the process of planning and coordinating care of the elderly and others with physical and/or mental impairments to meet their long term care needs, improve their quality of life, and maintain their independence for as long as possible. It entails working with persons of old age and their families in managing, rendering and referring various types of health and social care services.  

Geriatric care managers accomplish this by combining a working knowledge of health and psychology, human development, family dynamics, public and private resources as well as funding sources, while advocating for their patients throughout the continuum of care. For example, they may assist families of older adults and others with chronic needs such as those suffering from Alzheimer's disease or other dementia.

Palliative Care:
The Oxford Medical College Hospital and Research Centre, Palliative Care in Bangalore offers a form of care that improves the Patient's quality of life dealing with terminal illnesses. In addition to improving Patient's quality of life, The Oxford Palliative Care also acknowledges the medical journey of the patients. Together, patients, family, and skilled nursing staff gain knowledge of the Patient's care goals to manage their symptoms at every stage of their disease and lessen any possible distress.
Palliative care is an important part of cancer care. Sometimes called supportive care, it is recommended for all cancer patients from the time of diagnosis, through all stages of treatment, and after treatment is complete to address symptoms of the disease itself or side effects of its treatment.
What stands out in The Oxford?
The Oxford Medical College Hospital and Research Centre, discusses your options upon admission and throughout your stay to include you in decisions on palliative care using our "confirm, stable, Comfort" approach. This provides you and your family with a great deal of comfort and enables us to modify your care plan to meet your changing needs. Reinforcing the value of quality of life while establishing lifestyle options, goals, and advance care planning for our Patients and their families' future care.
"The end of life deserves as much beauty, care and respect as the beginning."