Pathology is the medical speciality concerned with the study of the alteredmorphological changes of tissues, blood and body fluids.It is the Laboratory Medicine forming the integral part of teaching and diagnostic methodologies. It is the sheet anchor of clinical medicine. It aims at the final diagnosis of various diseases in the light of its causation to manifestations. It emphasises and resolves every aspect of medicine from diagnostic testing and monitoring of multitude of diseases to cutting-edge genetic research and blood transfusion technologies.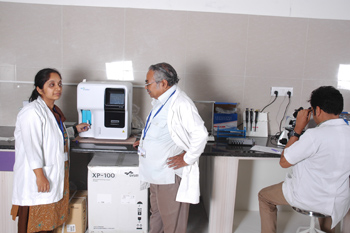 A thorough basic knowledge of pathology is highly imperative to the students , clinicians and academicians.

Pathology includes various aspects of disease: cause(etiology) and sequence of events leading up to the development of disease(pathogenesis).It plays a vital role across all facets of medicine.
"As is your pathology, so is your medicine," said the legendary physician Sir William Osler.

Teaching, Diagnostic and Academic Research are the major aspectsof the Department of Pathology at the esteemed The Oxford Medical College Hospital and Research Centre. These activities set the quality standards for clinical care,train and imbibe the health professionals .The institution possessesa well-equipped diagnostic laboratory with Haematology, Clinical Pathology, Cytopathology and Histopathology services and carrying out a plethora of investigations aiming at proper and definitive diagnosis.
It possesses a dedicated diagnostic and teaching faculty. The students are imparted with medical education through didactic lectures, practical classes, tutorials , group teaching, seminars and integrated teaching. Individual attention, cognisance with innovative ideas is bestowed on every student in the teaching-learning process.
The Department is equipped with well-furnished laboratory and lecture hall. The modern audio visual teaching aids are provided besides the conventional teaching methods. Practical manual cum record books are well maintained. Unique educational programmes are conducted . A constructive museum displaying the various pathological specimens , charts of the luminaries, specific diseases and models. A separate departmental library is established.

Blood Bank
Furthermore the Blood Bank , ofthe institution is a vital part of the health care system and is associated with the rational use of Whole Blood and further the Blood Components.Thedepartment emphasises on high quality standards in all aspects of Blood Transfusion Services. Universal precautions are strictly adhered to, and the guidelines of Good Manufacturing Practices (GMPs) are followed in donor selection, screening procedure in the donation room and in the processing of blood, and also while performing serological procedures for Blood Grouping, typing and screening for Transfusion Transmitted Infections.