The Teaching Hospital with 650 Beds is functional and the accommodation is provided for the Principal, Medical Superintendent and Hospital Officers for the supportive staff, Nursing Superintendent's Room and Office.
There is also an accommodation for:
Enquiry Office
Reception Area including facilities for Public Telephone, Waiting Space for Patients and visitors, Drinking Water facility with toilet facilities.
Store Room for Hospital equipments
Central Medical Record Section
Linen Rooms
Hospital and Staff Committee Room
Total Beds available for the Teaching Hospital:
Medicine and Allied Specialities:
General Medicine –150
Peadiatrics - 90
TB & Chest - 20
Dermatology - 15
Psychiatry - 15
Total 290
Surgery and Allied Specialities:
General Surgery -150
Orthopedics - 90
Ophthalmology - 15
ENT - 15
Total 270
Obstetrics and Gynaecology:
Obstetrics - 60
Gynaecology - 30
Total - 90

Grand Total = 650
Clinical Departments Indoor:
The Beds are provided as mentioned above and in each ward the provision has been made for to the maximum of 30 Patients, Nurses Duty Room / Station, Examination and Treatment Room, Ward Pantry, Store Room for Linen and other equipments, Doctors Duty Room and Clinical Demonstration Room.
The additional accommodation for Heads of the Departments, Heads of the Unit and Units Staff is also provided.
Operation Theatre Unit:
There are altogether 09 Major Operation Theatres and Minor Operation Theatre for each of the Surgical Departments are provided with waiting room for patients, pre-anesthetic/ preparation room and Post operative recovery room.

Central Sterilization Services:
There is an independent Central Sterilization Unit capable of taking the total working load of Operation Theatre and Laboratories. The Department works round the clock and all the materials, instruments, trays and dressing materials are supplied round the clock.

Department of Radiodiagnosis:
There is a full pledged Department with a provision for plain X- Rays, Contrast X- Rays, Ultrasonography and CT- Scan system. Accommodation is provided for Head of the Department, Faculty, Seminar Room, Museum etc..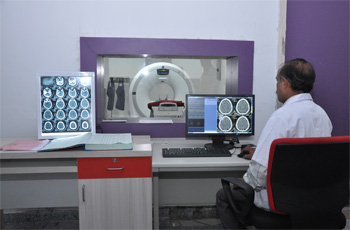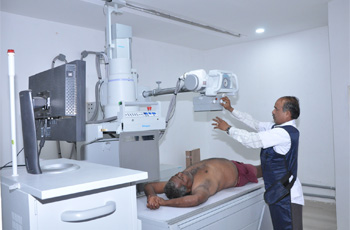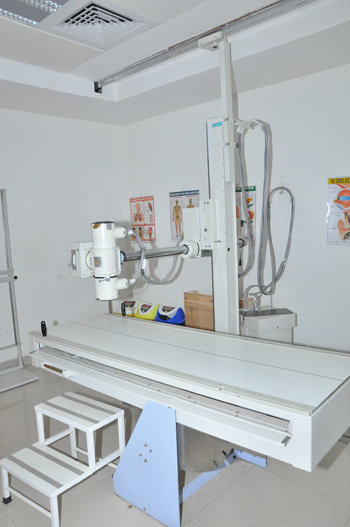 Department of Anaesthesiology:
There is a full pledged Department with the provision for accommodation for the Head of the Department, Faculty, Seminar Room, Museum, Library etc..

Out Patient Departments:
The accommodation for all the Clinical Departments is provided with Examination Rooms, Demonstration Rooms, Waiting / Reception Rooms, Enquiry and Record Room. The additional accommodation like dressing room, refraction room audiometry, plaster room etc.. are provided according to the requirements of the department.

Central Casualty Department:
There is a provision for 25 Beds for Emergency Admissions and 02 beds of OBG apart from Intensive Care Unit (05 Beds), Intensive Care Peadiatric/ Neonatal (05 Beds),Surgical ICU (05 Beds) and Medical ICU (05 Beds).

Central Laboratories:
There is well equipped and updated Central Laboratory along with Common Collection Centre for all Investigation in Histopathology, Cytopathology, Hematology, Microbiology and Biochemistry.
Central Hospital Pharmacy:
The accommodation for Dispensary for both Cash Pharmacy and Free Pharmacy is provided in the Hospital and has qualified pharmacist as the Incharge.

Central Kitchen:
In the Basement the Central Kitchen with Separate store area for proper storage facilities and service trolleys for food are provided.
Blood Bank:
The Oxford Medical College and Hospital Blood Bank is an certified blood bank established in 2013, registered with drug controller of India bearing registration number KTK/28C/259/2013 with state-of-art technologies and service.

Our licensed blood bank ensures the critical provisioning of blood that are collected, typed and screened for HIV, HBsAg, HCV, Malaria and Syphilis; for both in-house and outside patients.

We have Special couches to help conduct blood donation. Additionally, we have a dedicated team of qualified and trained professionals who follow stringent screening procedures, careful documentation and Good Laboratory Practices for collecting, processing and testing blood.

Blood donation is a selfless service and an expression of love for mankind. Blood knows no caste, creed, colour, religion or race.

We have now expanded now the Blood Bank by adding facilities to accommodate Blood Components, which include Packed Cells, Platelet, Concentrates , Fresh Frozen Plasma and Cryoprecipitates. In other words one blood bag can be separated into 4 Components and so can save 04 patients.

This will facilitate better healthcare in certain medical conditions like congestive cardiac failure, Dengue fever and Hemophilia to name a few.

Our component separation unit has sophisticated instruments like Deep Freezer for safe storage of blood components, laminar airflow bench to ensure the safety precautions, Platelet agitator and cryobata adds to the state of the art technology.

Our primary goal is to provide the right component to the right patients at right time at an affordable cost.